On January 10, 2017 on Ebay USA an unusual lot was sold.
It was a toy of Fernand Martin, named 'L' Eminent Avocat'. In our book "Fernand Martin Toymaker in Paris' is it, with several variations, shown on p. 146-147.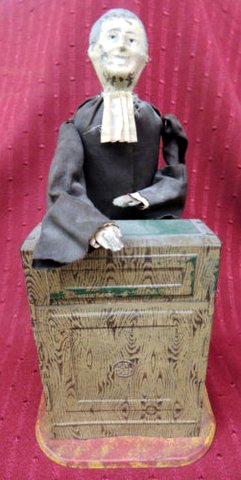 The description of the seller was:
"Fernand Martin, the advocate, wind-up tin toy, circa 1905, as-found condition, Paris, France, lithographed tin podium with standing figure, missing hat & paper is missing from left hand, toy does not work – sold as is, we have not tried to repair piece, mechanisms are present but do not work "fm s600" stamped on front of toy (see picture), hat is missing, green paint present on front of podium, paint is chipped, black "x" on bottom (see picture), back of podium is bent and one piece is missing on right side at top (see picture), hand-painted tin head with chipped paint, rust present on bottom of base, judge condition from pictures, measures approximately 9 1/4 in. x 3 1/2 in."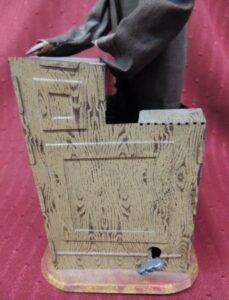 The seller apparently did not know that of L'Avocat Eminent 'three versions are made including one without a hat. This version I have seen only three times in 50 years.You understand that I have tried to buy this toy … but unfortunately the seller was not willing to send it to Europe. It was sold for US $ 576,99.The new owner is hopefully a Martin collector who not only gained a bargain but also can add a special piece to his collection. Worthwhile restoring it!
About the Author: admin