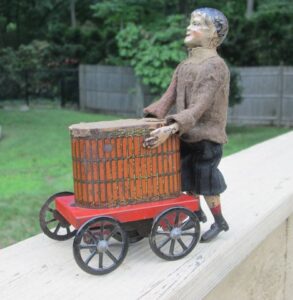 This picture was sent to us by a collector. He asked for more information.
This toy will be in the book at page 229 in the chapter about 'Imitators".
It is called "Le Livreur Rapide" and made by S.I.J.I.M (no. 36). For sure it is not a Martin-toy!!
But this toy is very rare, only a few are known and that is why it is difficult for me to tell you an exact price.
Off course condition is important. Like F. Marchand has said in his book, ad I quote: it is the best imitator of Martin-toys in France. (See also advertisement below).