This picture shows 'La vendeuse de jouet' a French lady selling toys of Martin in the open air, around 1900.
From left to right you see:
Le Pochard, Le Chinois, La Blanchisseuse, Le Faucheur, Ma Portiere, Le Gai Violoniste, L'Homme de Corvée, Le Balayeur and L'Oie.
The whole picture is showed in the book at page 86 and this specific part of it was sent to me by Yves Taniou.
Merci beaucoup!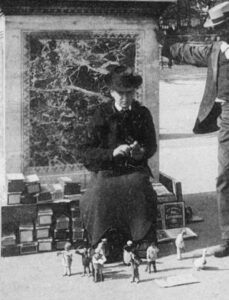 About the Author: admin