This spring there is plenty to do for Fernand Martin enthusiasts! Several international auction houses are having toys made by him in their catalogs. Some prices are very reasonable, and other prices were very high!
Fernand Martin still lives among collectors as we experience from the questions sent to us regularly. Your questions and messages about Martin remain welcome!
Sometimes we come across something which adds to our book. On page 151 is at number 206, an ad that shows 'Jeu de Peche a la Grenouille sauteuse'. However, we recently found a large ad that the toy is more visible. However, if you find a picture of the box we hope you will share this with us!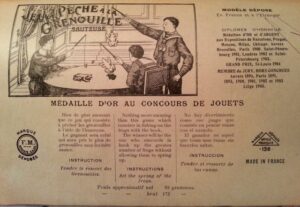 Recently, someone sent us a photo with a question about the following "Le Charcutier. In his family, this toy was known as 'the chopper man'! We want to share this picture with you because the condition of the toy is beautiful and the family has taken very good care of it! Perhaps this even leads to a start of a collection?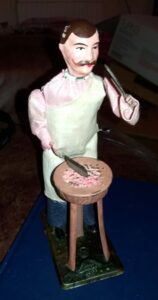 And last but not least …
"La Charette Anglaise 'on page 63 of our book. The picture below we found some time ago at an auction on Ebay. The seller did  initially not know what it was but quickly became wiser thanks to the help of several other enthusiasts. They told him that this really was a toy of Fernand Martin. The condition was not great but still someone spent € 1589.00 on it! I hope both seller and byer are very satisfied.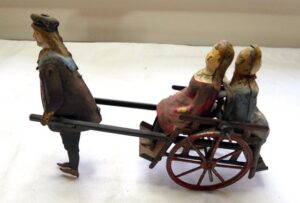 About the Author: admin