Fernand Martin in Klein Paris
After our recent visit to 'Klein Paris' in the special and unique Spielmuseum Soltau (www.spielmuseum-soltau.de), we would like to share our enthusiasm about the collection with you.
On the other side of the main location of the museum, a 'branch' has been set up, called 'Arthurs World'.
Several years of hard work by Antje and Mathias Ernst have resulted in a beautiful permanent exhibition in which the collection of antique toys of the late Arthur J. Verdoorn is fully appreciated and radiates the pleasure that Arthur and his friend Lourens Bas experienced collecting.
With the opening of 'Klein Paris' in this private accommodation, the special collection of the Spielmuseum has now also been supplemented with toys made by Fernand Martin.
Come in and step back in time, in the streets of Paris from around 1900, depicted in mechanical toys.
Do you want a souvenir after your visit or do you want to learn more about Fernand Martin's toys? The book 'Fernand Martin – Toymaker in Paris' / 'Fernand Martin – Fabricant de Jouets Mécaniques à Paris' is available both in the museum and via this website.
This book also contains a DVD on which 50 pieces of Martin toys are shown in motion.
Due to the opening of 'Klein Paris', the price has been temporarily reduced from € 98.00 to € 65.00 (excluding shipping costs).
Do you have questions? Please contact us via this website (www.fernandmartintoys.com).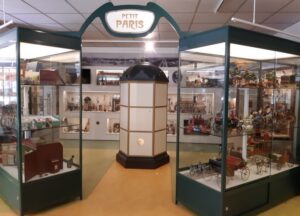 Kind regards from Ria and Laura Bas and Sasja Verdoorn.
About the Author: admin