On 14 October 2018, the Louis-Roland Neil collection was auctioned at the French auction house Osenat Fontainebleau. Thanks to a tip from an attentive collector, I studied the catalog more closely. And indeed it was offered under lot 377: " Fernand MARTIN "La SENTINELLE ANGLAISE de la GARDE ROYALE ".
Who is in possession of our book see on page 121 that this soldier is described there and is depicted with a drawing but that a photo is missing. From now on, however, everyone can add the photo themselves!
At the photo of the auction the soldier is lying on a sort of stretcher. I have edited this photo for my own use but on the website of the above mentioned auctioneer you can also look up the other photo. The soldier was sold for € 3850,00 including the auction fee.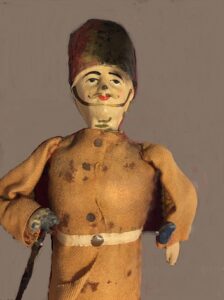 In this collection 17 other Martins were also sold but they are negligible compared to the Royal Guard above!
About the Author: admin