After Victor Bonnet took over the toy business from Flersheim in 1919 he makes, among other things, 'Camion' (no. 249). This is an open truck from the 'Les Auto-Transports' series. A fellow collector drew my attention to a different 'camion' on Ebay and at the moment I looked at the photo the auction was immediately terminated.
The nice thing about this Camion is not only the beautiful condition but also the print on the hood: 'Goulet-Turpin'. Internet teaches us that this is the name of the Goulet-Turpin couple, who founded a distribution company under this name in 1874, the year of their marriage.
I know that there are many collectors of Bonnet cars in France and hope that it ended up in one of these collections.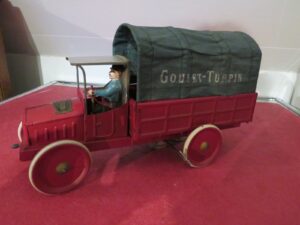 About the Author: admin